Armenian Police delegation pays a visit to the French Ministry of the Interior (VIDEO and PHOTOS)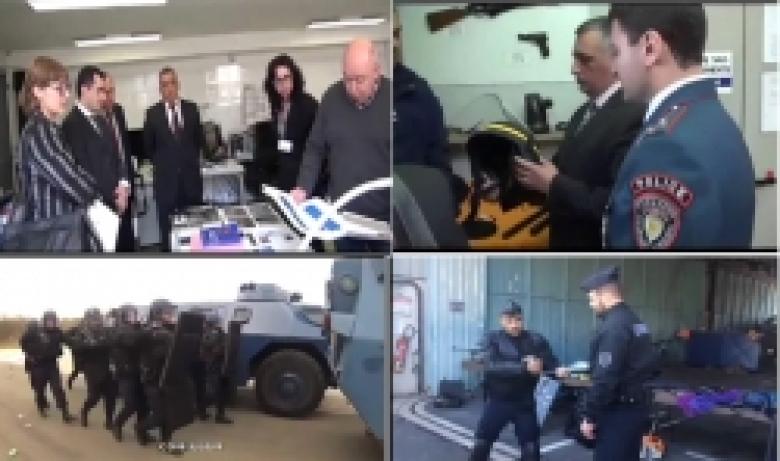 A delegation of Police of the Republic of Armenia led by Head of Information and Public Relations Department of the RA Police, Police Colonel Ashot Aharonyan paid a study visit to the Ministry of the Interior of French Republic on May 12-15, 2014.
The four-day visit was organized at the initiative of the OSCE office in Yerevan within the framework of the cooperation between Armenian Police and French Ministry of the Interior with a view to comparing and sharing experiences.
As part of the study visit, the Armenian police officers attended the Public Order and Traffic Department of the French Ministry of the Interior where they met with Adam Florence, Commissioner of the Headquarters for the Security in Paris and adjacent regions. In her speech, she focused on the tasks and work principles of the Headquarters.
On the second day of the trip the Armenian delegation visited the Information and Communication Department of French Police where they met with representative of French Ministry of the Interior, Civil Affairs Administrator David Zhuyagh and his Deputy, Speaker at the French Ministry of the Interior Pierre Henry Brande. The Armenian officers were introduced to the work of the Department and discussed with their French counterparts pecularities and the strategy for cooperation of the Police with mass media.
On May 15 the Central Department of Republican guards hosted the Armenian police officers. The French experience in public order maintenance, as well as the doctrine of the Republican guards were introduced to the Armenian officers by Head of the Republican guards territorial division Jean-François Bass and Head of the Headquarters of the Republican Guards Territorial Department, Commissioner Yannick le Gêne.
Next Armenian police officers visited the Museum of the National Gendarmerie, and attended the Technique and Equipment Exhibition.
On the whole, the visit stimulated lively discussions and exchange of experiences between police officers from Armenia and France.
We trust that such visits contribute to advancing police enforcement practices in Armenia.
On May 16 the delegation of Police of the Republic of Armenia came back to Yerevan.