Annual regional women in policing conference held in Tbilisi (VIDEO and PHOTOS)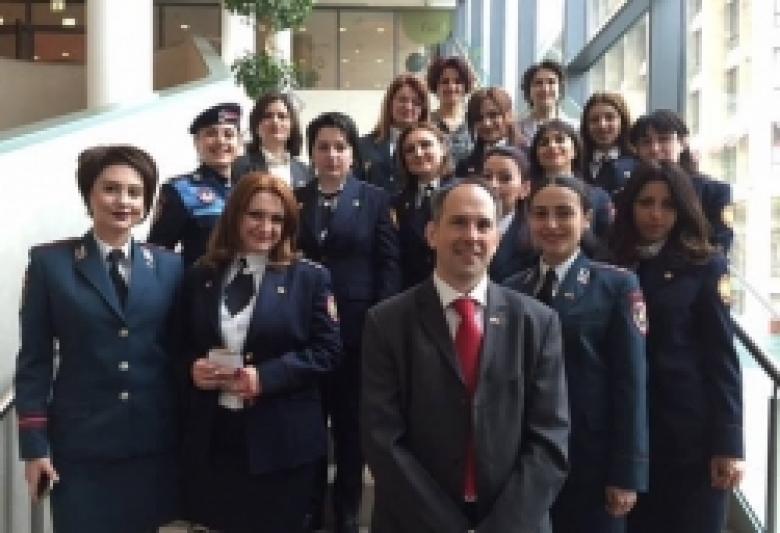 The 5th Annual Women in Policing Regional Conference organized by the Ministry of Internal Affairs of Georgia in cooperation with the Bureau of International Narcotics and Law Enforcement Affairs (INL) took place in Tbilisi from 1 to 4 March, 2016.
This annual conference aims to develop the qualification of law enforcers and emphasize the role of women in police.
Welcoming remarks were made by Ambassador Extraordinary and Plenipotentiary of the United States to Georgia Mr. Ian Kelly, Minister of Internal Affairs of Georgia Mr. Giorgi Mghebrishvili, as well as Mr. Michael Turner, Senior Police Advisor at the U.S. Embassy in Tbilisi.
The event brought together 260 female representatives from the Ministries of Internal Affairs of 18 countries, as well as female officers from Police of the Republic of Armenia.
Over those 4 days Canadian and U.S. law enforcement specialists addressed such key topics as Investigation of Childhood Deaths and Death Investigation on the whole, Domestic violence, Ballistics Examination, development of communication skills, Crisis Negotiations, Defensive Tactics, Recent trends in illicit drug trafficking, crime scene investigation and professional promotion strategy. The use of computer technologies helped to hold quite practical and instructive lectures.
It is noteworthy that the delegation of Police of the Republic of Armenia which included female officers from the Gerneral Department of Criminal Intelligence, Legal Department, Police Headquarters, Yerevan City Department and the Educational Complex of the RA Police actively participated in the whole course of the conference, taking the chance to ask questions, share experience and engage in discussions with their counterparts.
A certificate award ceremony for the attendees was held upon completion of the conference on Friday, March 4.